The recent split in the state government with the Deputy Director of the Department of Health and Human Resources is a matter of personnel and much more.
Jeremiah Samples, the outgoing deputy secretary of the state's largest government agency, released a statement today outlining unfinished business with DHHR's many challenges. In doing so, he unleashed a new whirlwind of concern among lawmakers tackling these issues.
"What is happening to Jeremiah is an example of the dysfunction within DHHR," said Delegate Dianna Graves, R-Kanawha, one of many delegates who have focused on overhauling the agency.
DHHR has challenging missions promoting the health of West Virginians, addressing substance abuse issues, supporting the state's most vulnerable children, and more.
Those issues began boiling over in the last legislative session, with lawmakers citing DHHR's size and performance in handling those issues as they backed a bill that would have split the agency. Governor Jim Justice vetoed the bill.
The state government's largest agency was also in the spotlight in other ways.
A foster-focused bill would have established a dashboard to provide more information on how to help vulnerable children in the system. At one point, this bill also provided more money for raises to try to maintain adequate staffing for child protective services workers. The bill has not been completed.
And state senate leaders have called for an audit of the agency, expressing concern over numerous long-term issues related to finances, information technology issues, staffing shortages, the status of foster children sent out of state for care, etc.
These issues arose after the split with Samples, who often took it upon himself to outline DHHR's duties to lawmakers. The Senate finance chairman said he couldn't believe the governor approved Samples' departure.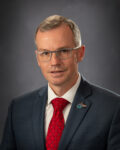 "In light of all of this, we then see – I can't imagine this coming from the governor's office – that Jeremiah Samples has been terminated from DHHR. I hope it wasn't a blind side for the governor," Senate Finance Chairman Eric Tarr, R-Putnam, told local radio Monday.
Tarr continued, "It was very, very surprising to me that the secretary put that at Jeremiah's feet."
Samples, the outgoing assistant secretary, outlined the ongoing challenges with many of these issues in a statement released Monday.
"Despite an allocated budget of approximately $7.5 billion, tireless dedication from staff and wonderful commissioners, and an expectation of success from the Governor, DHHR has struggled to make, and even lost, progress. in many critical areas," Samples said.
"Child protection, substance use disorders, protection of the vulnerable, management of state health facilities, EMS and provider capacity, support for client transition from public assistance to the job market, contract management and many other DHHR responsibilities simply did not meet anyone's expectations, especially mine."
Samples continued, "While the answers to these problems are complex, solutions must be found. As a society, we can never forget that every statistic is a real person. We must do better.
He alluded to differences with DHHR secretary Bill Crouch over how to alleviate these issues.
"Unfortunately, Secretary Crouch and I did not share the same views on the issues, how to handle them, or the urgency of getting results," Samples said, "but I respect that parting of the ways. and I pray for the success of the State in solving these problems.
His description of the challenges at DHHR drew agreement from House Majority Leader Amy Summers, R-Summers.
"This is an accurate description of the current state of affairs in West Virginia; and it helps you understand why (Jeremiah Samples) will be missed as he worked tirelessly to improve the system and the lives of others," Summers wrote on Twitter.
Delegate Kayla Young, D-Kanawha, replied, "I totally agree."
Administrative reaction
Crouch and Gov. Jim Justice addressed issues involving the samples and DHHR during a Monday briefing. In general, they said Samples' departure was a personal matter and they wouldn't elaborate.
But, more broadly, the governor and secretary acknowledged West Virginia's struggles with the issues that DHHR is meant to address. Each promised improvements.
"At the end of the day, we all know there are challenges and issues within DHHR – and they're not new, are they?" said Governor Justice. "Truly and truly, these have been around for decades and decades and decades. And we try to make things better. There is no doubt that we are trying to improve things.
But the governor said the decision to split the agency needs more consideration. In his previous veto message, Justice promised to bring in outside experts for a review of how to improve DHHR.
"To rush pump a bill that could really, you know, we could blow our legs out with it," Justice said, hinting at the possibility of risking federal funding.
Justice promised: "I will fix it. And I will absolutely call in the experts to do a thorough review. And once we find the gaps in what we should be doing, we will fix them. I mean, that's just all there is to it. He concluded, "I've never let the public down, nor am I going to let them down on this one."
Crouch said the agency needed a team effort to monitor vulnerable populations in West Virginia. The Secretary approved the decision to bring in external consultants to review the DHHR.
"We support the governor. I'm part of the executive. The governor has been right on target in terms of what we need to do from day one," Crouch said. "So we're going to continue that effort, and we're going to have it reviewed, and we're going to look at those results and see what needs to be done."
Legislative reaction
Delegate Lisa Zukoff, D-Marshall, spoke in favor of legislation to reform DHHR last session. Today, speaking directly to the governor, she tweeted that the agency still needs serious attention.
"@WVGovernor, the Legislative Assembly made known by passing a bill the split of the WV DHHR. The juggernaut needs to be tamed to be more efficient and effective for West Virginians who receive services through its programs, especially our WV children. Jeremiah Samples is a huge loss," Zukoff wrote.
Graves, the delegate who concluded that the situation with Samples is an example of agency dysfunction, went on to outline concerns about agency leadership. Graves said she accepts the governor's rejection of the DHHR split and looks forward to seeing what he proposes to do instead. "He didn't agree with our plan, so I'm ready to see what he does next with an open mind," she said.
"The governor is well aware that there are issues that need to be addressed and I believe he wants to address them. I believe he's working on it and just trying to find the right path forward – and that's what we want. Someone at the helm who takes it seriously and will be thoughtful and careful. He knows Jeremiah and people like him are part of the solution to these problems.
Graves described Samples as transparent, extremely capable and trustworthy of lawmakers.
"Does anyone understand how rare that is in an arena filled with intrigue and suspicion? To have officials who will speak the truth even when it's hard to hear, who will serve beyond this which is required because they actually care about the people of this state? Jeremiah is one of those people. His loss to DHHR is incalculable.
Senate Finance Chairman Tarr criticized DHHR's leadership several times during the legislative session.
A letter de Tarr asked the Joint Committee on Government and Finance to consider several concerns: out of state placement of children in foster care, the agency's use of contract nurses, the state of forensic group homes, and the slow pace of IT upgrades that could help the agency improve efficiency.
"It's not a cost issue. This has been a leadership issue within DHHR," said Tarr, R-Putnam. during the comments on the floor of the Senate.
Speaking on local radio on Monday, Tarr reiterated those broader concerns.
"There is a bipartisan agreement that DHHR is too big to handle," Tarr said on WCHS Radio's "580 Live," referring to the agency's budget of more than $7 billion.
"Despite all the money that's been poured into DHHR, there's still – the leadership within it to be able to bring somebody in and move in a positive direction hasn't happened."
Tarr said he looks forward to the governor's backed review to examine DHHR from top to bottom.
"We have seven and a half billion dollars going to DHHR which is not meeting the goals the agency has to serve the vulnerable population it has," Tarr said.
"I think the governor has a big eye on this to come in and see how to do this. I hope, just within the agency, that the secretary doesn't impose this on someone else who sees the writing on the wall.