Microsoft is working on a fix for ongoing connection issues affecting some Outlook for Microsoft 365 customers and preventing them from accessing their accounts.
Sign-in issues affect users who attempt to sign in to Outlook using their Outlook.com accounts or those who have already added the accounts to their Outlook profiles.
Instead of signing in, users will see the following error messages asking them to use a work or school account: "You can't sign in here with a personal account. Use your work or school account instead."
Although Microsoft says the Outlook team is working on a fix for this known issue, an official workaround is available for those who wish to access their accounts until a fix is ​​deployed.
"As a workaround, you can disable Support Diagnostics, which disables the option to submit an In-App ticket using Help and then selecting Contact Support. The bug is related how Outlook authenticates for diagnostics in certain situations," Microsoft said.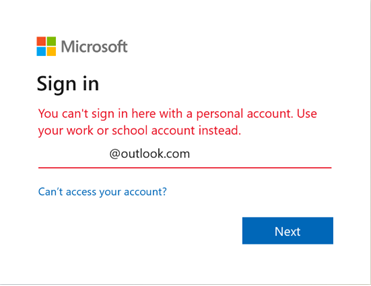 To disable support diagnostics in Outlook and prevent it from reporting customer information on failure to support services, you must enable DisableSupportDiagnostics policy setting.
"This policy setting determines whether Outlook can report customer failure information to Support Services for the purpose of diagnosing the issue or making the information available to Support to assist in diagnosing/resolving the issue and /or provide a popup error message to the user," depending on the Catalog of Group Policy Administrative Templates.
Last week, Redmond said it was working to fix another bug that could prevent users from configuring Exchange Online mailboxes in Outlook for Windows.
In early October, the company began rolling out a fix for another known issue since August that is causing Outlook for Microsoft 365 freezes and crashes after launch.
Microsoft also recently fixed a bug that caused Outlook email client crashes when reading emails containing tables such as Uber receipt emails.